This is a Report to show Historical Purchases on a per-Customer basis. You can select a Date Range to Report on and use Entity Search to load any Customer Purchase History.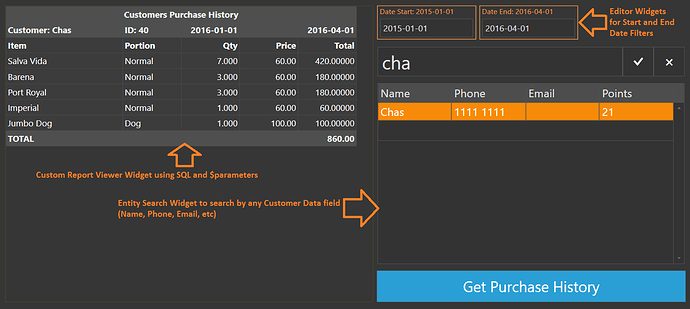 This Tutorial uses to SQL scripts to pull data from the [Orders] table and the [Tickets] table. The data in the [Orders] table does not include Additional costs or Discount values that might be applied via Order Tag Prices, so the Item Total Prices could be incorrect (too high or too low). Note in the screenshot above, this is evident since the Item Totals do not match the Grand TOTAL.
The other thing to note is that the Orders SQL query as shown here will also include Void and Gift Items, but the Ticket SQL query will not include them, since it is strictly pulling the Ticket Total. To exclude Void and Gift Items, you should add as part of the WHERE clause in the Orders SQL query:
and [CalculatePrice]=1
This is noted in the Scripts portion of this Tutorial in regard to the SQL Script named @@PurchaseHistory.
##Quick Nav
Reports
Scripts
Custom Entity Screen
Automation Commands
Actions
Rules
DB Tools
(reserved)