#GQL Modules
A set of GraphQL "modules" that facilitate access to certain SambaPOS 5 functionality.
Works with any ES5-compliant Browser (iPhone, iPad, Android, Windows Tablets, etc).
Designed as a Single Page App (SPA) so that page refreshes/reloads are not necessary, since a reload will break the connection to the GraphQL/signalR/Message Server.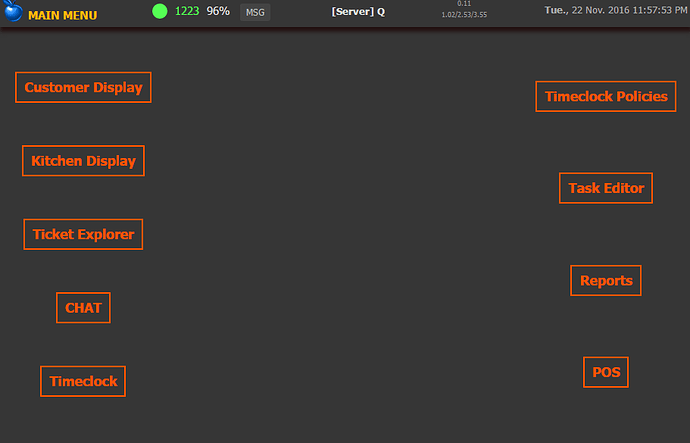 DISCLAIMER: I am going to release this code as-is with no guarantee of support whatsoever. However, I am also going to attempt to walk through any required setup.
Oh yah…
NOTE: You may find the code to be poorly written, and it contains very little in the way of comments to explain how it works.
---
##Setup
UPDATE 2017-06-03 ::: Updates for GraphQL Authentication for SambaPOS 5.1.62+
UPDATE 2016-11-23 ::: POS Module ("QMPOS") enabled!
UPDATE 2016-10-23 ::: PHP dependencies have been removed, so you no longer need a PHP-enabled site. All Modules function without PHP. However, the Modules require some "special" Custom Reports in SambaPOS in order to function.
##Embedding a Module in a SambaPOS HTML Viewer Widget
Even if you may not be interested in the CHAT Module, the method for embedding a Module in a SambaPOS HTML Viewer Widget is detailed in this section. It is quick & easy to do, so take a quick look…
---
###These Modules are available. Some of them require certain Actions and Rules be created within SambaPOS:
###These Modules are currently inoperable:
---
##The "CODE"
Yes, here it is … "the code", hosted on gitHub …
https://github.com/QTMcKay/SambaPOS-GQLmodules
ISSUES: please use gitHub to report issues.
QUESTIONS: post your questions here in the Forum, on this Topic.
---
##DB Tools Import Files
Main Automation:
!GQLM_HUB_BUS_Automation.zip (3.4 KB)
Main Automation: (same as above but also with Customer Feedback display)
!GQLM_HUB_BUS_Feedback_Automation.zip (3.6 KB)
Special Reports:
!GQLM_SpecialReports.zip (2.8 KB)
Task Types:
!GQLM_TaskTypes.zip (565 Bytes)
Customer Display:
!GQLM_CustomerDisplay.zip (2.3 KB)
Kitchen Display:
!GQLM_KitchenDisplay_Automation_TaskTypes_Printing_Screens.zip (4.9 KB)