I don't know what a totalizer is. I am not sure what you are wanting here.
At the moment that i select the customer, i want to see the last purchase of the customer
Be more specific. Do you want a popup or something else? Do you mean select customer to add to a ticket?
In image 1, i add 4 empanadas, next i want to add another one with the + button. when i do this the total amount of empanadas doesn´t change. You can see this in the image below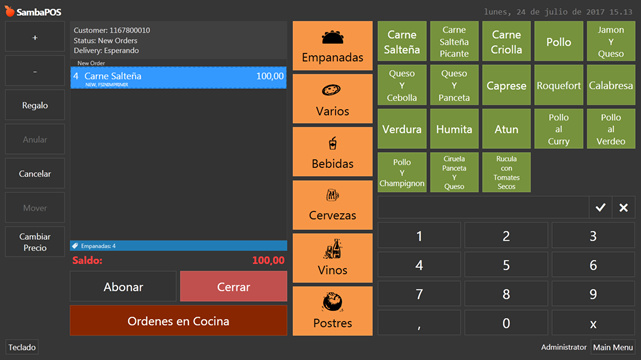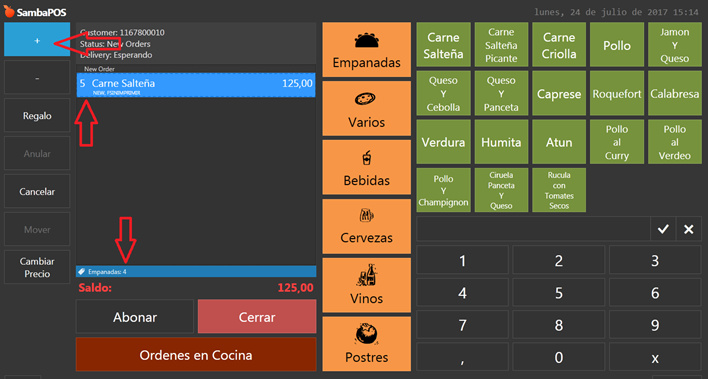 OK so what does that ticket tag do and why have it?
Sorry Kendash.
That is because is already working. I did that, and its working, cause in one moment they asked me to tell them all the things i need to have. (And i just copy and paste the message)
You dont have to do anything with that.
Both of them are V5. The problem is that the primary field is different. (In one store i have the name as primary field and this was wrong)
In the newest store im using the Phone number as primary field. (this is correct because the phone number cant be the same fot different customers)
Once we finish with the mods, i will install the same version in both stores but i need to export Customers data for the oldest store and import in the right format on the new samba installation.
Fiscal integration will be in a second stage after doing all this things. (its an epson, i will tell you later the model)
For example, they called me… i put his telephone number to search him, and when i select the customer i can see im some way the last purchase. (maybe in the window where i select the items for the order) So i can tell him if he would like to have the same and with one click i charge the same order)
Thats what i need QMcKay!
Thanks
Kendash, are you interested in helping me? Of course im going to pay you.
JTR or QMcKay, the same to you.
Thank you!
I'm interested sure but being paid puts a time line pressure and right now I am hesitant to commit to additional projects. However if you were to msg me with very detailed information on exactly what you need done I can look at it and give you a good answer.
I like kendash have allot on and can't offer guaranteed turnaround time with current workload I have on.
Kendash, i really dont have detailed information. I Mostly answered here in this thread but if you have any doubts we can make a call or a chat, as you prefeer.
JTR thanks anyway for your help!!

QMcKay what about you?
It might be worth asking @markjw - another reputable re-seller here in UK
Yes, JTR, im talking with him! thanks again!
Hi All!
Anyone with time to help me now? thanks in advance!
Regards,
Was Mark not able to help?
Nope… I fyou have time now to do all this things, we can continue in private!
Thanks for your answer JTR
I'm still busy, plus not got much experience in kitchen display, or fiscal printer.
We can go with other things like export the customers of one samba and put in a new one. (or better said, with different entitie configuration)
In one samba the primary field is the name, and in the other the primary field is the telephone number.
I dont know how to do that for example.
Thanks!
@iberiabati Sorry I was travelling when you sent PM before and I forgot to reply you. I can help you but need more clarification on some points, I've replied your PM.