Hi @emre, We have been using the SAMBAPOS Caller ID feature with CTI Comet USB Caller ID device. its has been working fine making staff's life easy for a busy Eat-in/takeaway Restaurant. I would highly recommend other SAMBAPOS user to invest in a caller ID device for a takeaway business.
We have come across following issue:
When Customers withhold the phone number (Caller ID device does not detect the number) causing SAMBAPOS to display error message and to crash.
Error Message: "The Calling thread must be STA, because UI components require this"
when you click on OK it will cause SAMBAPOS to cash and close, you would then need to restart SAMBAPOS.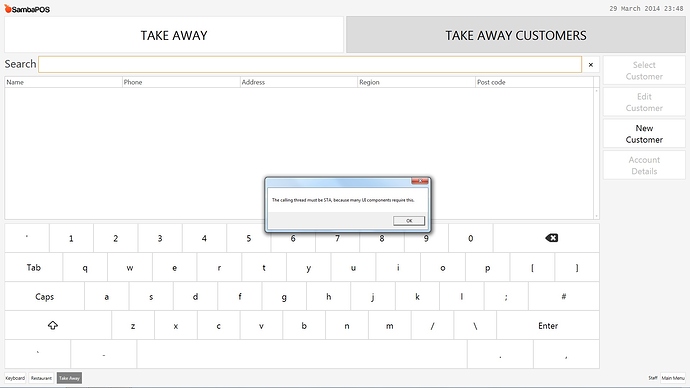 The other issue is that we would like to store two phone numbers for customer record/account because sometime customer may phone from land line or Mobile phone to place an order for delivery. Currently caller ID only detect phone number filed. If you add another phone number in customer account and make a call with that number it will NOT find the customer account intead it will ask you to create new account with that number.
For example: Below is an example of a customer account with two phone numbers.
currently if a customer phone using phone number 0201 234 5678 caller ID POP would find customer record with all the information.
If customer phone using Mobile number 0771 234 5678, caller ID POP would detect that number, when click on caller ID POP up it would request you to create new customer account instead of finding the current account details with all customer information.