How do I set up VIP Member Discounts and Happy Hour Discounts and have them interact with each other so that VIP Members do not get Happy Hour Discounts on top of their VIP Discount? That is, how do I prevent double-discount for a VIP?
And how can I set this up so that it is all automatic; so that it doesn't require user interaction such as using Automation Command Buttons on the Ticket Level nor the Order-line Level?
This Tutorial will show you how to set this up and includes these features:
Product-level Discounts for HH and VIP
Discounts do not use a Price Definition; instead they use Custom Product Tags
VIP Discount overrides HH Discount when you select a Customer who is marked as being a "VIP"
Happy Hour Days/Times implemented without Triggers will come into effect when you want them to, based on Start/Stop Days and Times that you set
supports VIP and/or HH discounts: choose to use only VIP or only HH, or use both at the same time
This is a fairly lengthy setup, and is somewhat complex, so be sure to double-check everything that you do, then triple-check it. Take comfort in knowing that if you are successful in setting this up, you will have learned about some most advanced and powerful features available in SambaPOS.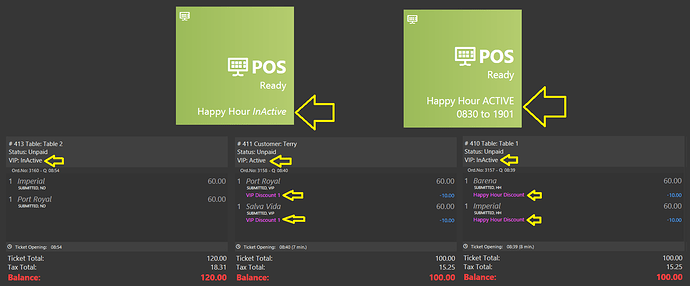 ###Setup Quick Links
Product Tag Captions
Custom Data Field for Customer Entity
Order Tags
Actions
Rules
Printer Template Tags
VIP Ticket State (optional)
POS Nav Tile ( V5 only )
DB Tools Import Files